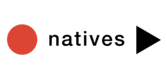 Natives
Natives is a Production Studio, part of BBDO Group. It was founded in 2018 based on the post-production unit of BBDO Moscow agency.
Currently Natives team provides a full scope of services for video content production: shootings, post-production, motion design, 3D modeling and other types of work.
The team works with a variety of channels — from classic videos for TV placements with the organization of production locally or in other countries to the development and production of TikTok content by using specially developed technology.